Posted 03 November 2004 - 10:36 PM
Why Do I Always Get The Wee Leg When We Have Haggis For Tea

BlueBells'R'Blue T.A
---
Posted 02 April 2005 - 11:33 PM
At last I have got my act together and got some photos on the web. Usual address.......
Bruce's Fotopic Site
As usual only the "full size" ones will be full quality so click through to them if you want to copy any.
Got some videos from the phone too but cannae post them on the web yet.
---
Posted 05 April 2005 - 04:02 AM
Get yer SEX & DRUGS & SAUSAGE ROLLS t-shirts and yer WE'LL BE COMING condoms at tartanspecials.com
---
Posted 06 April 2005 - 10:28 PM
Just a wee note that my first 10 photos are available from
www.scotlandia.com
More to come in the next few days.
---
Posted 30 August 2005 - 08:02 PM
Will the one you took whilst comparing shorts be on the next update?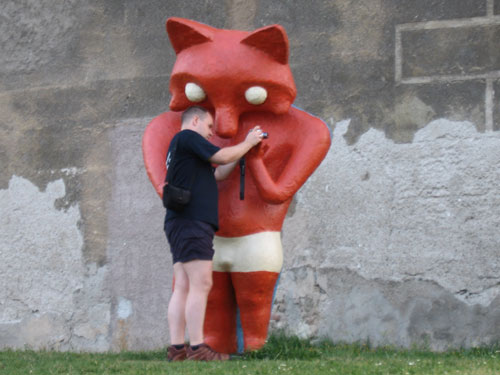 From the
NATA Austria Gallery
Edited by Paul NATA, 30 August 2005 - 08:02 PM.
---
Posted 18 September 2005 - 10:58 PM
---
Posted 21 September 2005 - 08:57 PM
---
Posted 21 September 2005 - 10:22 PM
---
Posted 21 September 2005 - 10:23 PM
Never Forgotten
Mr Shangalang


Marc John Carapiet
passed away on Sunday 31st Oct 2004
''You can shed tears that he's gone.
Or you can smile because he has lived
You can close your eyes and pray that he'll come back
Or you can open your eyes and see all that he has left
Your heart can be empty, because you can't see him
Or you can be full of the love he shared
You can turn your back on tomorrow and live for yesterday
Or you can be happy for tommorrow, because of yesterday
You can remember him, and only that he's gone
Or you can cherish his memory and let him live on
You can cry and close your mind, be empty and turn your back
Or you can do what you want, smile, open your eyes, love and go on.''
Mr Shangalang
Pics of Mr Shangalang, in the Ally McLeod presentation
.
Ally McLeod
- Leader of the 'Tartan Army' Dies February 01, 2004
Former Scotland and Aberdeen manager Ally McLeod has died at the age of 72. 'Ally' - who played on the left-wing for Hibernian and Blackburn led 'Ally's Tartan Army' to the 1978 World Cup in Argentina with hopes of winning a medal. But despite a famous 3-1 victory over Holland, Scotland exited the competition early after being defeated by Peru and drawing with Iran.
Scotland fans everywhere will remember Ally McLeod fondly
Ally McLeod presentation
Memories Of Khraeigh
This is in memory of
Khraiegh
, one of the good guys who left us at a very young age 32 yrs old.
1974 - 17th July 2006
R.I.P.
Thoughts with his wife and kids, his family and friends.
''We come into this world, for but a fleeting glint of time, some make their mark, some make it dark, Khraeigh you lit the planet in your short time here, you touched many peoples hearts, you were a gift from God. He has called you home.''
''If only you could get one more post on this board to let people know the truth''
Thoughts from fellow footsoldiers
Stories.
Edited by Photo Correspondent, 21 July 2006 - 06:39 PM.
---
Posted 21 September 2005 - 10:24 PM
---
Posted 01 November 2005 - 07:28 PM
---
Posted 15 November 2005 - 09:42 PM
These are mine from the USA game
http://uk.pg.photos....g2002/my_photos
more to follow
7-10-2006
Scotland 1-0 France

Alba-gu-brath....
---
Posted 16 November 2005 - 12:23 PM
www.crackofdawnfraserburgh.co.uk
---
Posted 16 November 2005 - 01:34 PM
AC/DC & THE BOSS AT HAMPDEN........HAPPY DAYS!!!!!!!!!!!!!!!
---
Posted 21 November 2005 - 01:36 PM
some of our slovenia photos!
http://uk.pg.photos...._torr/my_photos
Edited by TA Torr, 21 November 2005 - 01:36 PM.
Sac that, i'm off to the pub!!!
---
---